Trends for Outsourcing IT in 2020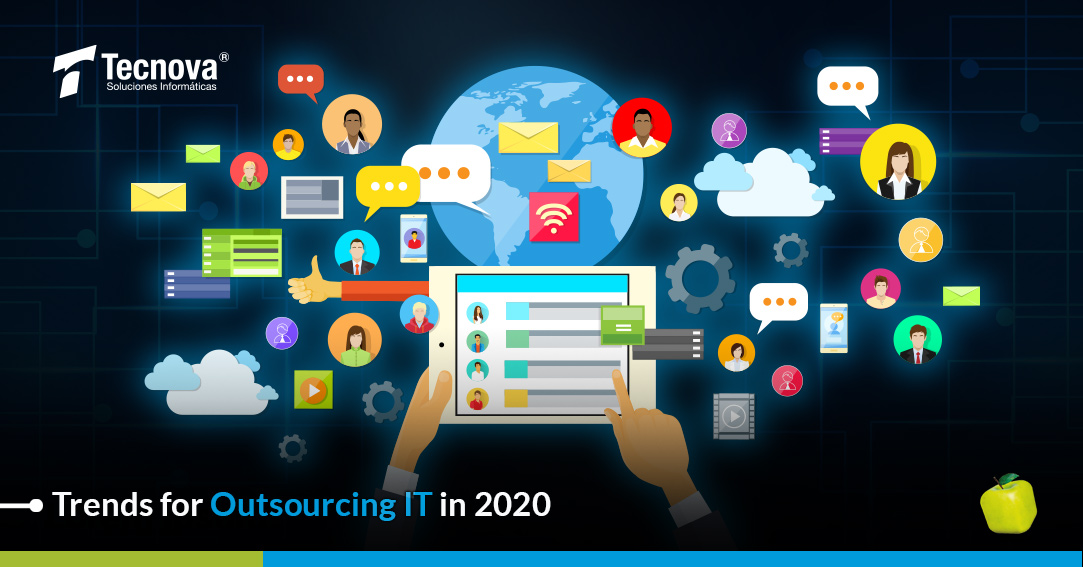 By 2020, trends in IT outsourcing are broad. Proof of this is the increased investment in this way of approaching technology. According to the research manager of IDC Chile, by 2020, "35% of large companies will transform their IT structure to cope with Digital Transformation". In other words, it estimates that, for every $10 of investment, "$6 will go to third platform-based technologies.
"In this scenario, the prominence of IT outsourcing is relevant. According to IDC Latin America IT Services Tracker study, IT outsourcing has an annual growth rate of 9.3% worldwide. This meant that by 2018, there was a global investment of $83 trillion in technology outsourcing. In the Latin American case, investments are concentrated in infrastructure outsourcing, application outsourcing and IT consulting.
With third-platform technologies (Cloud, BigData/Analytics, IoT and Artificial Intelligence) as an investment center, the contribution of outsourcing is predominant in terms of the Digital Transformation of any company. That's why, at Tecnova, we bring the main trends of IT outsourcing by 2020.
What will companies invest in and why? Let´s Review!
In general, the expected IT outsourcing trends, as collected by Brainhub and Superstaff research are:
Value of work and saving money
Brainhub gathered data from GSA UK, where it consulted on IT outsourcing. In the study, a quarter of the companies responded that the most important thing in this area is cost savings. On the other hand, 23% of respondents prefer these services because they have improved their customer experience.
Therefore, the belief remains that outsourcing means savings and efficiency.
Robotic Process Automation (RPA)
The use of artificial intelligence (AI) and other advanced technologies to automate is increasing, it is a trend for IT outsourcing according to experts, in Chile by the mid-2030s, 28% of jobs could be automated.
To Superstaff, the business process outsourcing company (BPO) must maintain the balance between delegating subservient tasks to computer bots. This will ensure that workloads are managed more efficiently. It also means staff remains only in the most direct interactions with customers.
Tailor-made software development
The specificity of the companies means that each of them requires different solutions. The advice for companies that only need a process modification, improvement or automation of these, is to hire companies that manage to meet that specific demand.
Cloud computing
Digital technologies are making it possible for companies to capture or generate tons of customer data. Even if you're a small business, you'll need similar technologies to store and back up your customers' files. If this process is very expensive or tedious for the company, a partner who in IT outsourcing provides this service.
With cloud computing, you can rent your provider's IT infrastructure on a pay-as-you-go basis to meet your server, storage, or networking needs without having to invest large amounts of money in developing and owning in-house technology.
Up-Skilling: skills found in outsourcing
To provide the best possible services, outsourced teams are expected to update their skill sets through intensive training.
For example, social media support staff are expected to have knowledge and experience not only in customer service but also in social media marketing tools, data analytics, and perhaps social media content development.
These are all part of the trends that point to the consolidation of IT outsourcing. For that and much more, there are companies like Tecnova that support these processes.