Maintain productivity in times of crisis: how does technology help?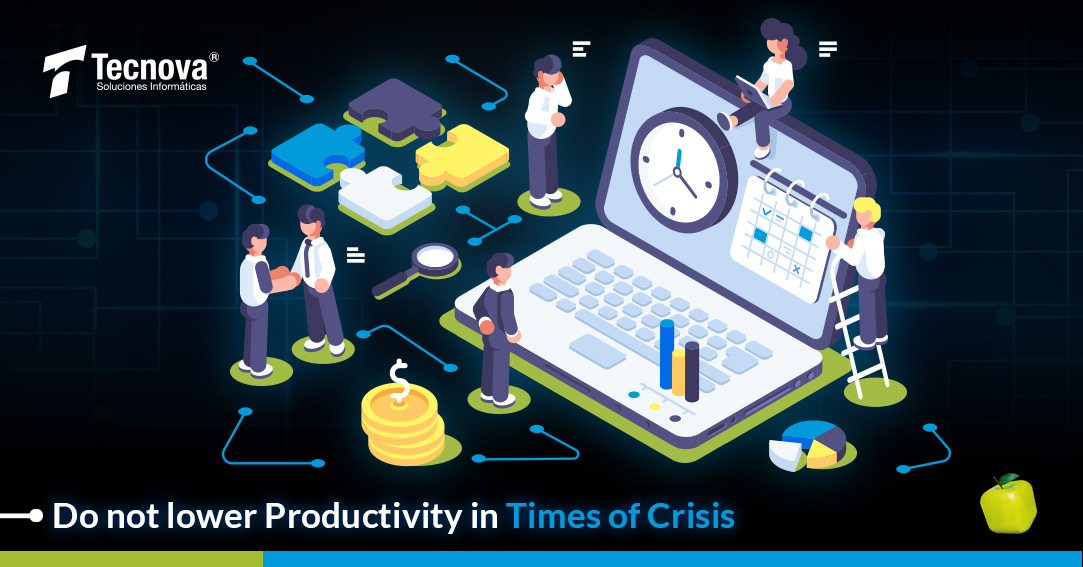 Chile's social crisis has had an impact on the way we work. At first, it was very difficult to get to the job, whether because of traffic, lack of public transport, long distances, were difficult to get around. For many companies, this situation represented a breaking point in the way to work.
Many rethought, how necessary is it to come to the office?, will you be able to work from home?, if so, how do you manage to solve connectivity problems?, what needs to be installed at home to operate as an office?, how do I know if the collaborator is working? At Tecnova, we propose a series of suggestions to incorporate more technology and not lose productivity in times of crisis.
Speeding up mobile work: telework
According to a study by Standford University, experimenting with Chinese travel agency Ctrip, it was found that, over telecommuting, "employee wear and tear decreased by 50%. They took shorter breaks, had fewer illnesses and few days off." Therefore, depending on the item, if it is a service where production is only generated from a fixed point, such as in an office, it can be useful to change the workplace to the house. There are experience cases in Chile, there are companies that have "teleworked".
According to Randstad Chile, 48% of companies in Chile promoted home office among their workers the week after October 18.
Enable collaboration and communication tools
Collaboration is critical for every group. However, workers do not make it locked in cubicles. With the abundance of free apps, such as Google apps (Docs, Slides, Sheets) or Microsoft Office, staff members working from remote locations can easily collaborate and share documents.
Custom cloud solutions offer robust, secure solutions for dealing with sensitive data. Unified communications systems allow for various types of communication, so you can choose which would be the most effective: a phone call, an instant message, a conference session, or a video chat.
On the other hand, BPM systems perform management processes with complete traceability and visibility among participants at all stages of the process, greater control by headquarters, increased productivity, fewer costs, automation of processes, all online, which helps remote work. Tecnova Software Factory has specialists in this type of developments.
Customer Relationship Management (CRM) systems such as Salesforce , Zoho o Insightly are also indispensable for every marketing team. This saves time by tracking the status of a potential client in a shared location. These solutions increase consistency in customer relationships, increasing productivity and profitability.
Knowing that the worker complies
Countless hours can be wasted searching spreadsheets for information stored in large data sets, especially those which can only be accessed from desktop computers. Investing in a database system that allows your staff to easily add and access data pays for itself the inefficiencies.
For example, there is cloud-based timw-worked support or tracking software. They monitor the activity of workers, whether to track their hours worked, rest, etc. Tracking solutions like these keep mundane information, but necessary. This helps managers, employees and customers continue to comply, well-informed and productive.
Virtualization of processes
According to TechTarget, virtualization is "the process of replacing physical devices with virtual devices, available through software". You can split a physical server into multiple virtual servers through partitions. In addition, you can also virtualize servers, workstations, networks, and applications.
To do this, virtualization software manages the physical resources of that machine—memory, CPU, storage, and network bandwidth—among the most relevant aspects. That way, each virtual device is assigned according to the need and configuration
As Sangoma suggests, "it's hard to be productive during a power outage, and downtime is costly, so having a virtual copy of your infrastructure can get your computer back up and running instantly."