Alex Lagos, CEO of Tecnova, for Chiletec Award: "The social impact of the PAE project puts the citizen at the center"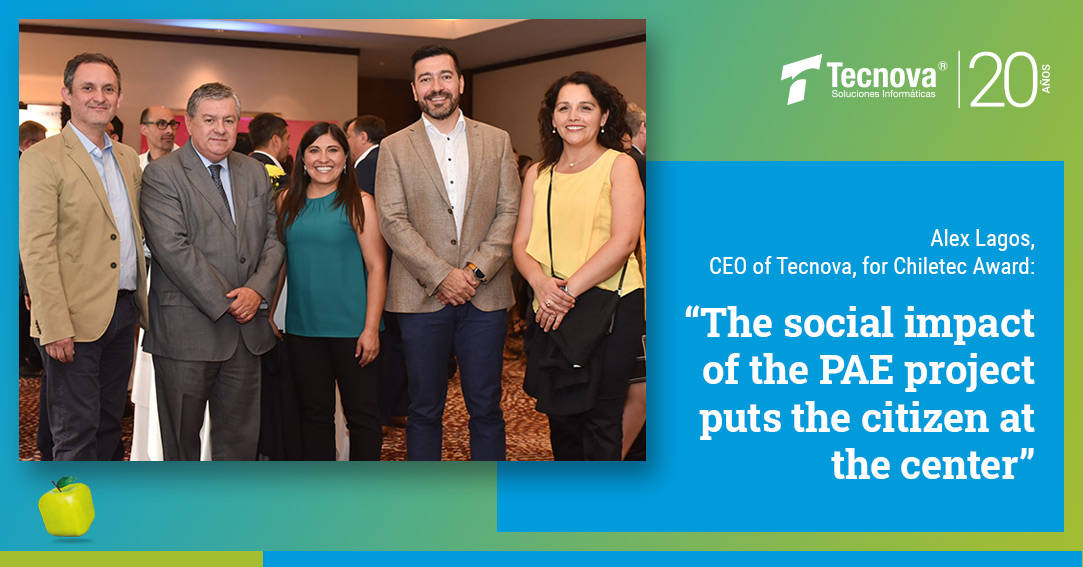 On January 8th, the XVII version of the Annual Dinner of Chiletec/XVII de la Cena Anual de Chiletec, was held, which awarded people, projects and / or companies that stood out for enhancing and making the most of information technologies.
At the ceremony, one of the award-winning companies was Tecnova, which won in the category Innovation and Impact Project for the Electronic Administrative Procedure Project (PAE) carried out for the Superintendence of Social Security (Event) last year.
To Alex Lagos, CEO of Tecnova, he stated that this recognition was given for the development of the so-called "PAE system", which shortening the response times to the citizen, following their claims for medical licenses. According to Lagos, this solution implies "a social impact by improving attention times, as there are sectors where the payment of license is their only income".
The project consists of electronically enabling the entire process flow linked to the entry, processing, analysis, resolution and notification of a claim. According to Lagos, this has been one of the first projects that are aligned with digital government initiatives in the state. "This project is a faithful representative of zero lines, zero paper and digital identity that establishes by law 21.180, of Digital Transformation of the State," he stressed.
But has not been the only prize. On September 2019, the multinational Oracle recognized our company for the same PAE Project, as one of the three worldwide emblematic projects. "This (award) is a clear indicator that it is possible to make world-class software in Chile and that we are recognized by the IT industry," said the engineer.
Finally, the CEO of the company points out that the award is a collective achievement. "We welcome this achievement with pride. It is a message of recognition to our team and that things can be done very well when there is a purpose behind it, … since these large, relevant projects are of a high complexity", acknowledged Alex.
Amid the celebration of the 20 years of Tecnova, Lagos recognizes that the company is making every effort to be the indispensable ally for private companies and government, accompanying them in processes such as Digital Transformation. "We are prepared and knowledgeable, we have been preparing and training project managers with agile methodologies and new technologies to consolidate the Digital Transformation of the country," he concluded.