What are the challenges of Telework in Chile?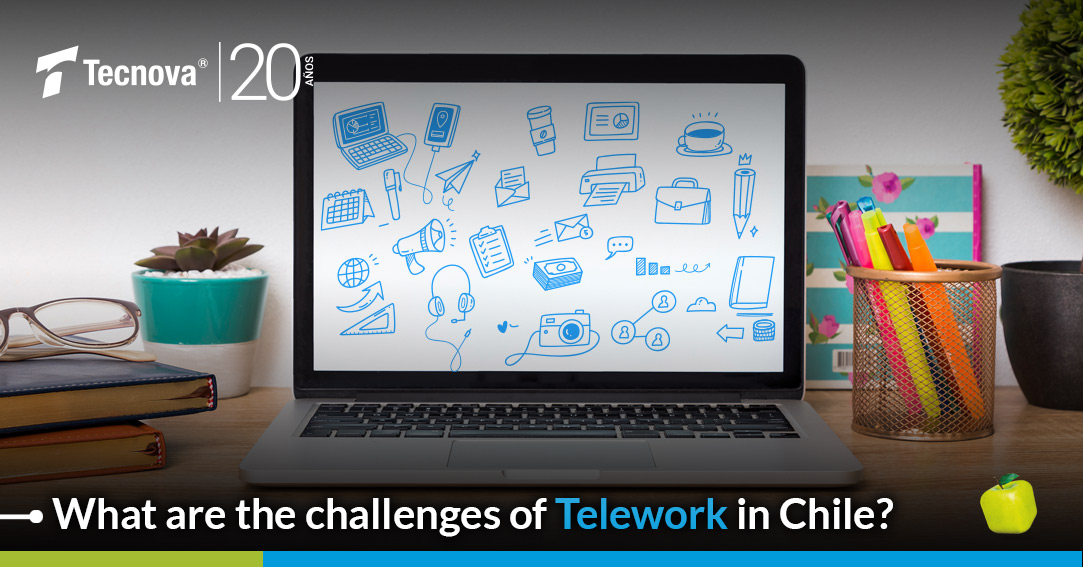 Remote or telework is defined as all work done outside the premises of companies. Some companies choose to move full-time employees to remote work. Others hire people to perform that mode of work.
Although there is no legislation on the subject in Chile, the Directorate of Labor / Dirección del Trabajo "recognizes the figure of work from home or from a freely chosen place, as well as the remote work that is done through computer or telecommunications."
For all those who "telework" currently, they are contracted under article 22 of the Labor Code. This is the standard used to make the employment contract, because "the supervision of your work (of Telework) is carried out on the basis of goals", as indicated by the website My labor law / Mi Derecho Laboral.
The rise of telework has led to it being a matter of law in Chile. In November 2018, the Chamber of Deputies / Cámara de Diputados   approved a government project regulating this modality. Currently, the bill is in the second constitutional process in the Senate. The initiative stipulates that there must be an agreement between employer and employee to provide services outside the company.
Boost of telework by the social statism: temporary or permanent measure?
In Chile, following the state of emergency after October 18th, 2019, 48% of companies in Chile promoted the home office among their workers, according to a study by the multinational human resources consultancy, Randstad.
According to the survey, applied to 440 companies of different fields, 31% of the firms already had telework implemented as an option, independently of the contingency, Diario Financiero said.
At Tecnova we want to review the benefits of telework and the challenges that companies have if they want to implement this renewed way of working. For the company can not only incentivize it for emergencies, but also as a permanent way to work.
Benefits of implementing remote work
Have a flexible schedule: Depending on the day, workers can work 6 hours or 16 hours. According to the agreed tasks among worker and employer, they can choose the days and hours according to the convenience of both parties.
Comfort of working from home: The time and effort required to dress appropriately for the working day, pack a lunch or go out to eat, the distractions of co-workers, among others. They all take a long time. Working remotely eliminates all those losses.
Higher productivity: According to statistics, more than 77% of professionals feel more productive when working remotely. In addition, 30% say they tend to produce more in less time when working from home. Mainly, this is due to minor distractions and a greater degree of autonomy and control over their daily routine.
Money saving: Travel takes time and money; time when work could already have started and money that can easily be spent elsewhere.
More opportunities: For employers, enabling adequate infrastructure and practices to develop telework opens the opportunity to also deliver services to clients remotely either on national or international territory.
Telework Challenges: What Should We Consider When Implementing It?
It's not all benefits. Before implementing remote work, workers and employers must consider several challenges to overcome. These range from factors such as: workers´ lack of interpersonal relationships, home-work environment, proper training in digital skills or the enabling of a safe workspace whether at home or elsewhere.
At Tecnova, we draw up a list of some challenges to apply telework, based on what is compiled by the specialized site Forbes:
Having "digital" employees: According to LinkedIn data, general technological skills (web design, social media management, etc.) are among the most demanded. "Companies expect employees to handle all kinds of digital tools. Even for senior positions and even more so for remote employees," Forbes emphasizes.
Home Cybersecurity: As we know, large companies have been victims of cybersecurity attacks and massive data breaches. While large corporations already have good control of security policies for remote employees, smaller employers have left this area sloppy.
A survey says 38% of remote workers  hired by SMEs do not have the technological support when working at home or in a public space. If remote work is deployed to the worker's home, the company must implement the solutions in cybersecurity.
Disconnecting from work: It's easy for full-time remote workers to become workaholics, especially when tasks are numerous and deadlines close. Many find the solution by setting a reasonable but flexible working schedule for most of their days. This depends on the organization of routines that the worker can build.
Loneliness: Communicating with members online via Skype is not the same as face-to-face interaction. Going to the office a couple of days a week or finding a workspace in conjunction with the office colleagues will help solve this problem. According to Forbes, "solitude" is one of the main problems in telework. This was identified by 21% of remote workers , according to an Open Buffer study.
Generation Z will demand Telework: This 2020 Generation Z will comprise 36% of the global workforce . As digital natives, who grew up in an Internet-centered society, members of this generation are likely to feel more comfortable with new technologies. Also be more inclined to look for remote or flexible work arrangements, rather than looking for traditional corporate roles.
And you, are you ready for these and more challenges?