5 advantages of IT outsourcing in 2019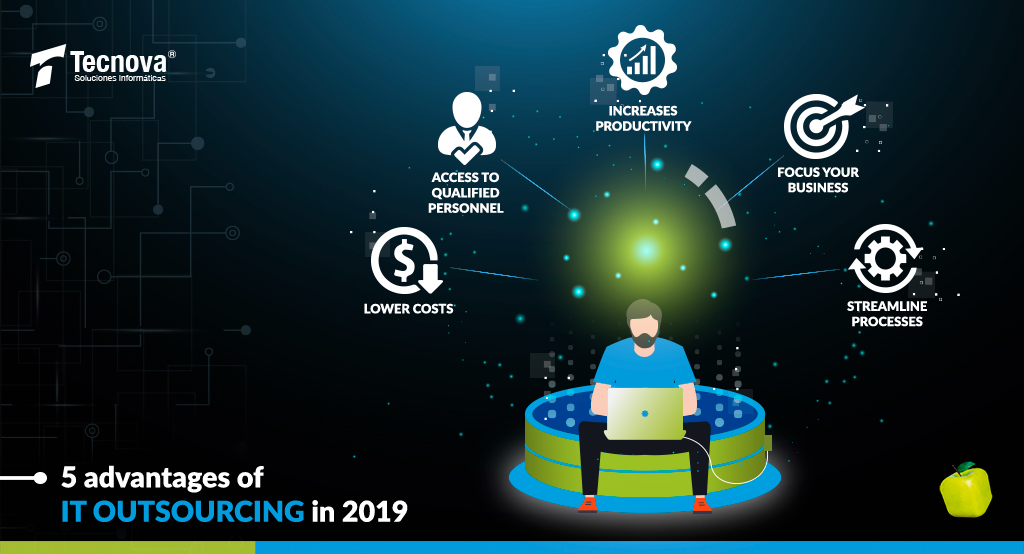 The outsourcing sector in Chile has had continuous growth. According to the  Asociación Gremial de Empresas de Recursos Humanos de Chile/Gremial Association of Human Resources Companies of Chile (AGEST), outsourcing grew by 10.5% in 2018. For AGEST, the companies that used the most outsourcing were Retail (24%), TI/Telcos (16%) and Non-Financial Services (12%).
In this context, for Page Interim, companies working with outsourcing could increase their productivity by 30% and reduce their fixed expenses by up to 20%. This trend, above all, is prevailing in demand for IT outsourcing services.
 According to Deloitte, customers outsource more when it comes to innovation, especially in the areas of digital, automation and analytics.
Do you want to know why and what it means for companies to outsource these processes?
At Tecnova we tell you some of the advantages in IT outsourcing. We have compiled the 6 advantages of the service, from sites like Computer World, Essent.com and Yakuun.
Here, the results:
Lower costs and free up human resources
Outsourcing reduces costs by offshoring work, especially work whose area is very specific, such as IT. If IT is outsourced, costs will be variable  and for a specific period of time. This means that companies can budget in a planned and concurrent way.
By not turning to company staff, it eliminates the need to train employees on very specific topics and derive those resources into benefits for them.
Also, when hiring IT outsourcing services per project, contractors will only be paid for the work done, rather than linking their business to an extended contract. This case is intended for small and medium-sized companies that have a limited number of employees and with many tasks and without having time for training, knowledge and dedication to IT or large companies with multiple IT projects working in parallel.
Access to qualified personnel, equipment and safety
When hiring the services of a company with a specific service, with full dedication to technological solutions, it involves resorting to updated equipment and software for that purpose. This also impacts the application of high security standards, as IT companies have teams and staff specializing in IT solutions.
Therefore, when choosing a company to contract IT outsourcing, it is necessary to review:
* Pre-opinions or references.
* Certifications.
* Know exactly the technological solutions that they have.
Increases productivity
As we explained the figures at the beginning, outsourcing increases a company's productivity. According to the portals consulted, this is because the downtime of the plant employee is eliminated, especially those who performed tasks that can  be outsourced today.
Therefore, it is ideal to hire a service that helps improve your productivity and, at the same time, integrates with the processes that exist in that organization.
The IT area, being as specific and with process requirements such as research, development and implementation time, can become long and costly. Especially for companies trying to have this area, they fail to exercise because of the costs.
Focus your business
Outsourcing certain business functions means that the company is more focused, adaptable and agile. This means that the staff focuses on their specialties, and the company will focus on delivering their main product or service.
With resource constrainers in mind, outsourcing can help the company stay focused on its business and not be distracted by complex IT decisions.
Streamline processes and implement new technology
When you hire an external vendor, it helps the company streamline its processes. Not only productive, but the internal processes of the company through the creation of applications, creation of databases, mobile platforms. Thus, processes are streamlined and improved.
A quality and outsourced IT services organization will have the resources to start new projects right away. Managing the same project internally can take weeks or months to hire the appropriate staff, train and give them all needed support. For most deployments, quality it companies will bring years of experience at first, saving time and money.