7 software development trends for 2020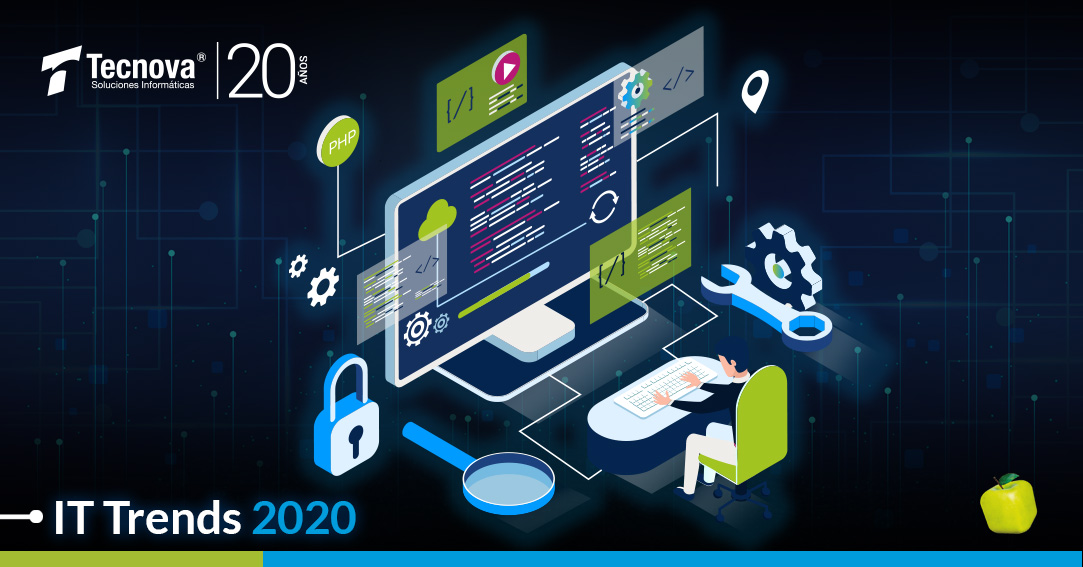 2019 ends, a year where the trend in Artificial Intelligence, use of Automatic Process Robotization (RPA), Machine Learning, use of Agile Methods, augmented reality, among others, was most demanded by companies. However, developments are moving forward in leaps and bounds.
These technologies have been introduced to meet customer demands by software developers. In the face of this, at Tecnova we present a compilation of the main trends that next year has to offer us, around the development of software, according to Hackernoon. Let´s check:
Artificial Intelligence
Most companies are embracing this technology in their software to deliver a better experience to their customers. In a Forbes survey, 84% of respondents said they believe AI implementation provides competitive advantages.
2020 is expected to witness some surprising forms of AI implementation in web application development. A good example of this has been Chatbots, increasingly common in apps or websites that replace human executives.
2020 will be a year of more chatbots, improvement in analysis to customer needs and lower requirement of humans for repetitive tasks.
The 5G network
Soon, a network a hundred times faster than 4G will make landfall to surprise us! It is the 5G network that will enter the global market by the end of 2020. It is assumed that 5G will provide better data security. In addition, the development of virtual reality applications like 3D games will also improve. Along with this, augmented reality-enabled apps.
In the case of Chile, the information suggests that 2020 will be the year of the first 5G network subscriptions in Latin America, this according to the "Ericsson Mobility Report".
Edge computing o computación perimetral
The global market for state-of-the-art computing is expected to increase approximately 28 times the investment between 2018 and 2025. In the face of this we ask ourselves, why such an increase? For Hackernoon, it's due to Edge Computing.
Edge Computing has an advantage for remote areas where connectivity to a centralized location is poor. In addition, it can be used to process time-dependent data. Meanwhile, cloud computing cannot be used for this purpose. Therefore, for CRN the goal of Edge Computing "is to maintain local traffic and processing to reduce latency".
Programming trends: Python
The trends of programming tools are also of great value. There are new programming languages, and some disappear almost every year.
Generally, Javascript and PHP are the most commonly used programming languages for the front-end and back-end programming languages. However, there are many other tools that are constantly gaining popularity.
One such language is Python, which is the most commonly used for AI and ML development. According to the popular programming language classification site TIOBE, the use of Python has doubled in 2019 (from 5% to 10%).
Mixed reality
The constant improvement of virtual reality and augmented reality is creating new wonders every year. Companies are investing in their own applications based on virtual reality development services. AR-based educational apps, for example, are a new trend that is taking technology in educational services to a new level.
Statistica has projected that the AR/VR market will reach $209.2 billion by 2022. While AR is being used for training purposes, VR has made its way into the gaming industry.
Growing popularity of cloud services
Cloud has been on the market for a long time. Even the technologies on this list, such as IoT and Blockchain, function as a cloud service.
The problem with data storage is real and the cloud offers a reliable and secure alternative to this. The market is shifting from using physical data servers to the cloud and your business should be a part of it as soon as possible.
OUTSOURCING IT
Remote personnel in the software industry have become quite popular in recent years. Hackernoon estimates that over the 2019-2023 time period, the IT outsourcing market will increase at a compound annual rate of 4.42%.
In its research, Technavio found that the key factor behind raising IT outsourcing needs has been "the growing need for business process optimization." IT outsourcing companies, such as Tecnova, are contracted with the confidence of providing exceptional software development services to companies.